I bought some cheap 4" x 6" frames to alter and I really like the effect I got. This is the frame before and after.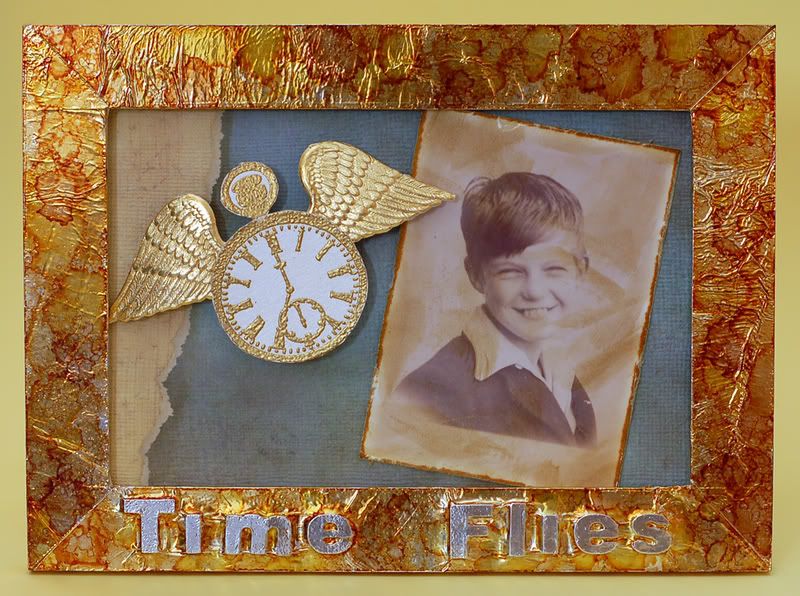 I cut out the letters "Time Flies" on my Craft Robo and stuck them onto the bottom of the frame using a little glue. I covered the frame with Aluminium Foil Tape and then used Ginger, Butterscotch, Caramel and Latte alcohol inks to colour the frame. I used an adirondack ink pad and tapped it over where the letters were and then wiped off the alcohol ink so the words stood out against the coloured frame. I took two pieces of DCVW Far East paper and tore the edge off the blue piece and then I inked the edge using Old Paper distress inks and I also distressed parts of the paper to make it look older. I printed an old photograph onto photo paper and then distressed it using the Old Paper distress ink and I went around the edges with a distressing tool and then inked them with the distress ink. I used a watch stamp, which I got from
The Artistic Stamper
, and using a versamark ink pad I stamped it onto some white pearlescent card and then covered it with Gold Tinsel embossing powder and heated it. I cut out the stamped watch image and put some German Scrap gold wings behind it. The photograph I put flat on the background and I raised the watch with wings using foam pads.
The weekly challenge on
Sunday Stampers
this week is "Time" so I thought this would be ideal.
The weekly challenge on
Funky Fairys
this week is to use a photograph on your card, scrapbook page or brag book etc etc - so this also qualifies for that challenge too.