I am so behind with birthdays, so I made three cards the same, just in different colourways.
For all three cards I firstly embossed a piece of card with the Cuttlebug Embossing folder - Birds and Swirls. I then used some brand new stamps made by
Hels
, (Stitchels) which will be available to buy from the
Artistic Stamper
very soon. I used black archival ink and stamped out 3 birds, 3 flowers and 3 butterflies and then I water-coloured them with Sakura glitter pens to co-ordinate with the papers and cardstock I used. I cut some backing paper slightly smaller than the cardstock and then mounted the embossed card onto this. Whilst cutting out the birds and butterflies, the birds lost their feet and the butterflies lost there antennae so I inked those bits up again and stamped them directly onto the embossed panel and then added the birds and butterflies. I attached the flower using silicone to give it a little depth. The sentiments are rub ons which I put onto a piece of backing paper and mounted onto mirror card.
Unfortunately, the photo's do not show the glitter and also the cards are much lighter than the photo's show, more of a pastel colour.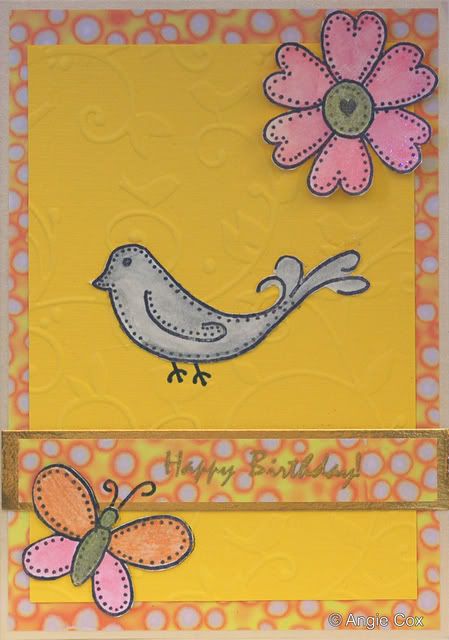 Please click on pic for a better view