It's been a miserable day here today, it rained most of the day. I've not been upto much today, but I did make a few things yesterday.
The first thing is an altered tin. This is the first time I've altered anything. I used my alcohol inks to cover the tin and then used old paper distress ink on the background of the butterfly and tore the edges and edged them with walnut stain distress ink. The butterfly stamp is from Crafty Individuals and was stamped using walnut distress ink and then I coloured it with some Adirondack ink. I just added two little flowers and a few bits of raffia.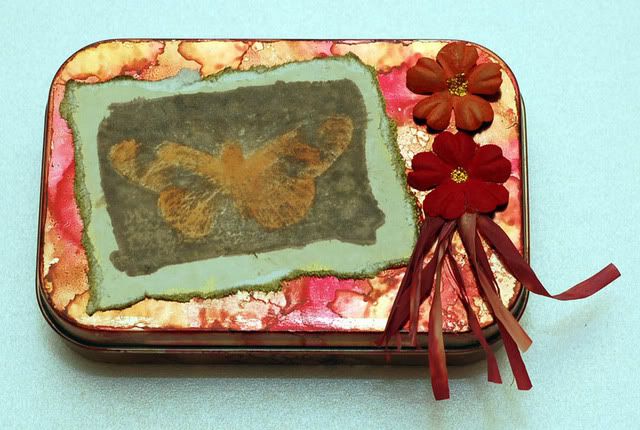 I also made a Fat Book Page, again using my alcohol inks and distress ink pads. The butterfly stamp is from DMD and I stamped it using walnut stain distress ink onto a piece of card which I had distressed using old paper distress ink. Again I coloured the stamped image with a little Adironack ink and added a couple of flowers and tied a piece of raffia around the page.